NEM: Lamp Memory Intercom System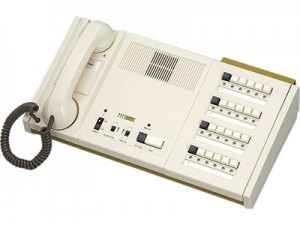 The NEM Series is a Lamp Memory Intercom that will support two master stations and up to forty sub stations. Calls to the sub stations can be placed selectively or via all call from the master station.
Features:
Master in 10, 20, 30, and 40-station sizes (with or without handset)
Built-in All Call
Press to talk at master or use handset, hands-free at sub
Group call up to 10 subs at a time
Optional background music – requires NB-U (max. 40 stations) and 10W, 25V or 8Ω PA amp (N/A from Aiphone)
Power Source
Use PS-2410A for NEM-10/20 and PS-2420 for NEM-30/40 24V DC, 45W max
Calling
Master to sub: By voice only after pre-tone Sub to master: Call tone and LED, remaining lit until call is answered
Communication
Push-to-talk, release to listen or VOX with handset Hands-free at sub station
Communication Output
500mW max., adjustable All Call: 6W, 12W Selectively up to 10 subs with TALK: 3W
Wiring
Doors/Subs to masters: 2-cond., overall shield NEW-5 to master: 10-cond., overall shield
Distance
Doors/Subs to masters: 420'(22AWG) 1,000'(18AWG)
Wire Type
please call Aiphone Pty Ltd.